ROAD BLOWPATCHER
MADPATCHER 6.5W
Madpatcher is the one of the most recognizable products of our company.
DESCRIPTION
The MADPATCHER, our best ? seller, is a modern machine for repairing holes, surface cracks and other defects of the asphalt pavement, with mixture of the asphalt emulsion and aggregate, without any preparation works beforehand.
Within over 20 years of its production, we have gathered invaluable experience in the design and construction of the new model generations.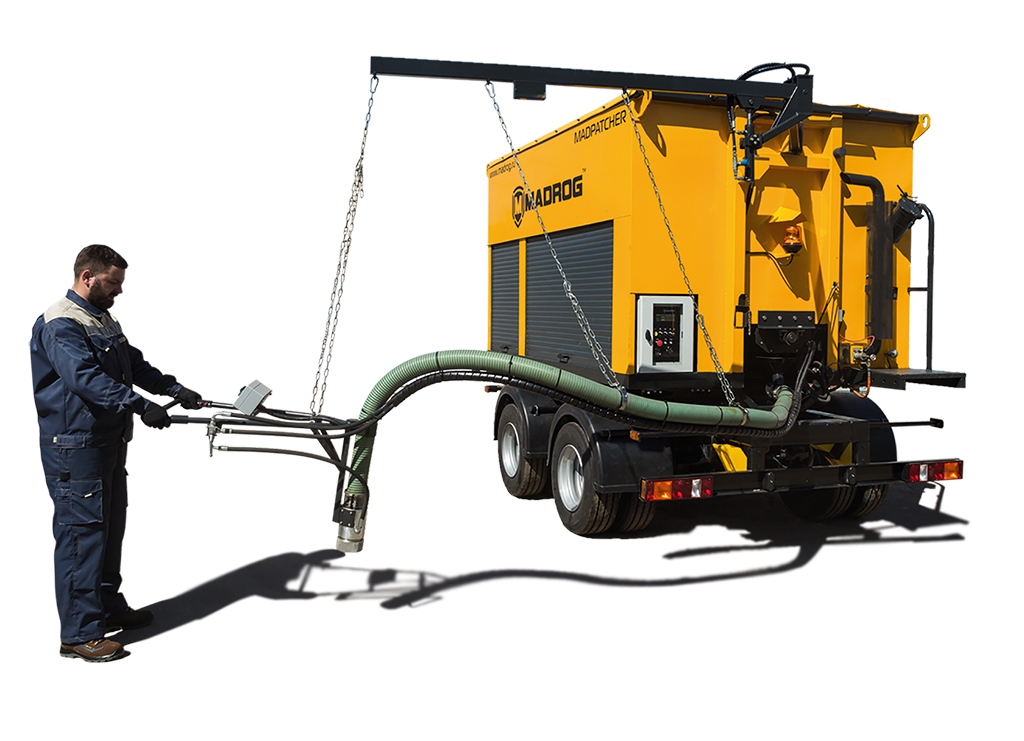 STEPS OF REPAIR
1. The repaired spot is cleaned and dried with compressed air
2. The surface of the spot is wetted with emulsion layer
3. The aggregate is delivered by air flow to the working head, where the aggregate is precisely coated with emulsion and then blown into the repaired spot by the compressed air
4. The top of the repaired spot is covered with fine aggregate
Once the repair is completed the road is accessible for the traffic. Repaired spots are both durable and solid.
The MADPATCHER is an independent machine with its own power source and can be mounted on any proper load capacity vehicle /e.g. semi-trailer, dump truck, trailer etc/The procedure of the road repairing is very simple and does not require any road surface milling before repair as well as rolling or vibration curing after repair.
Another advantage of the MADPATCHER is so minimal spattering of the aggregate during the repair work that both cars and pedestrians can move beside.
During the repair work the machine occupies only one lane of the road while the other lane is free for traffic.
Our customers report that they will last many years.
AMERICAN NATIONAL RESEARCH COUNCIL proved that the patching repair method is most durable and economical way of the road repair (National Research Council's Strategic Research Program H-353).
Applying this road repair technology you need several times less both time and costs, comparing with hot asphalt technology repair which is based on milling before repair and rolling after that.
The emulsion heating system keeps emulsion permanently warm.
Please note that we introduced a unique, cost saving, emulsion heating system: High efficiency, flow type Alfa Laval emulsion heater, utilizes heat from Kubota diesel engine cooling system for heating the emulsion in the tank, so you use the propane /butane burner only while Kubota diesel engine is not running.
Our emulsion heating system reduces heating costs to a minimum.
As far as we know, no one other manufacturer offers such system.
The MADPATCHER needs two people crew only (driver and operator).
Optionally, MADPATCHER can be equipped with two aggregate containers 3,25m?+3,25m? which gives possibility to apply two sizes of the aggregate alternatively.
All the work control elements are concentrated on an ergonomically designed operators control panel, which is fixed to the output pipe and close to the filling head, that allows the operator precisely control the repairing process.
Output of the emulsion, aggregate and compressed air, are step less controlled, which allows achieving both high productivity and high quality of the repair work.

TECHNICAL DATA
THEORETICAL OUTPUT
2,0 m?/h
WEIGHT
2770 kg
LENGTH
3700 mm
WIDTH
2300 mm
HEIGHT
2250 mm
CONTAINER FOR AGGREGATE
6,5 m? (optionally: two containers 3,25 m?+3,25 m?)
EMULSION TANK (heated, thermos type)
1100 l
PROPANE/BUTANE BURNER
automatically controlled
ALFA LAVAL EMULSION HEATER
utilizes heat from Kubota engine cooling system
KUBOTA DIESEL ENGINE
18,7 kW /25 HP
KEROSENE TANK
10 l (for flushing emulsion system)
HIGH EFFICIENCY AIR BLOWER
max. 10 m?/min, pressure 800 mbar
EMULSION PUMP
output step less control
EMULSION SPRAYING NOZZLES
inside the output pipe
AGGREGATE WORM CONVEYOR
made of special, Hardoxtype steel
FOLDED OUTPUT PIPE BOOM
DANFOSS HYDRAULIC EQUIPMENT
OPERATOR CONTROL PANEL
SIEMENS COMPUTER CONTROL SYSTEM
FILES
Contact us ? we will process your request shortly and contact you.