SMB type sprayer is our company's offer in the segment of machines for spraying with the use of bitumen emulsions.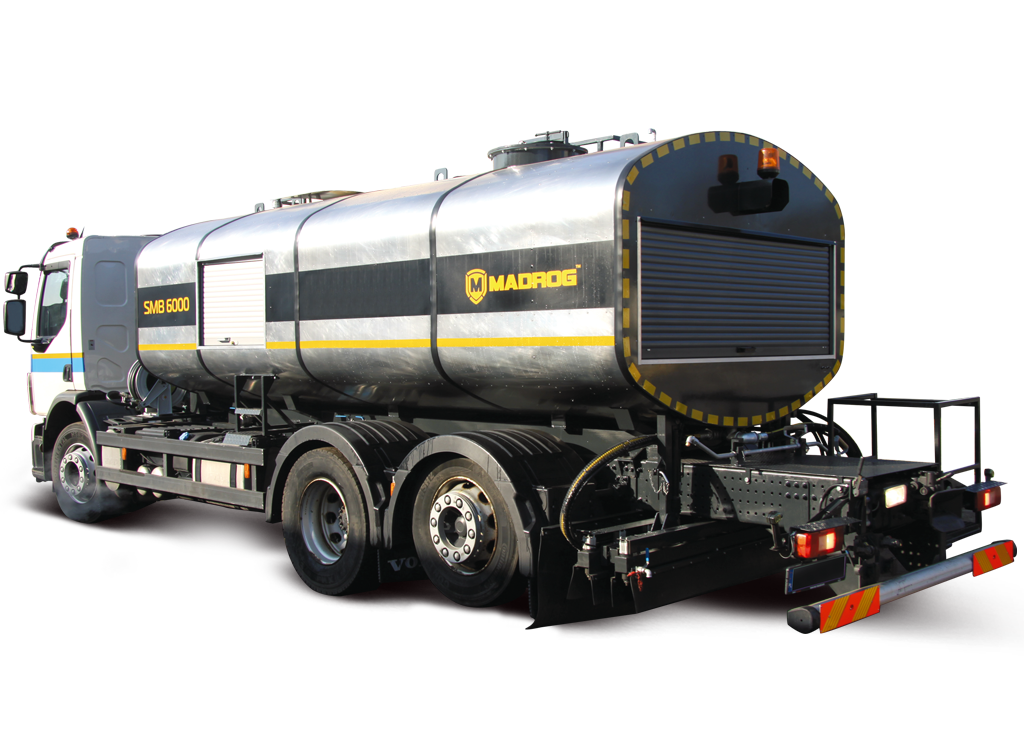 DESCRIPTION
This high-tech, fully automated, computer controlled, SMB sprayer, has been designed on base of our many years experience in production of the sprayers and is our answer for growing demands of the market. Taking under consideration our experience and suggestions our customers and the Technical University of Szczecin professors, we constructed high-tech modern product which, we believe, is well ahead of similar products even those of well known makers.
The SMB sprayer provides excellent both precision and accuracy of the spraying, keeping the emulsion output exactly to the parameters setting, even while machine speed or spraying width changes.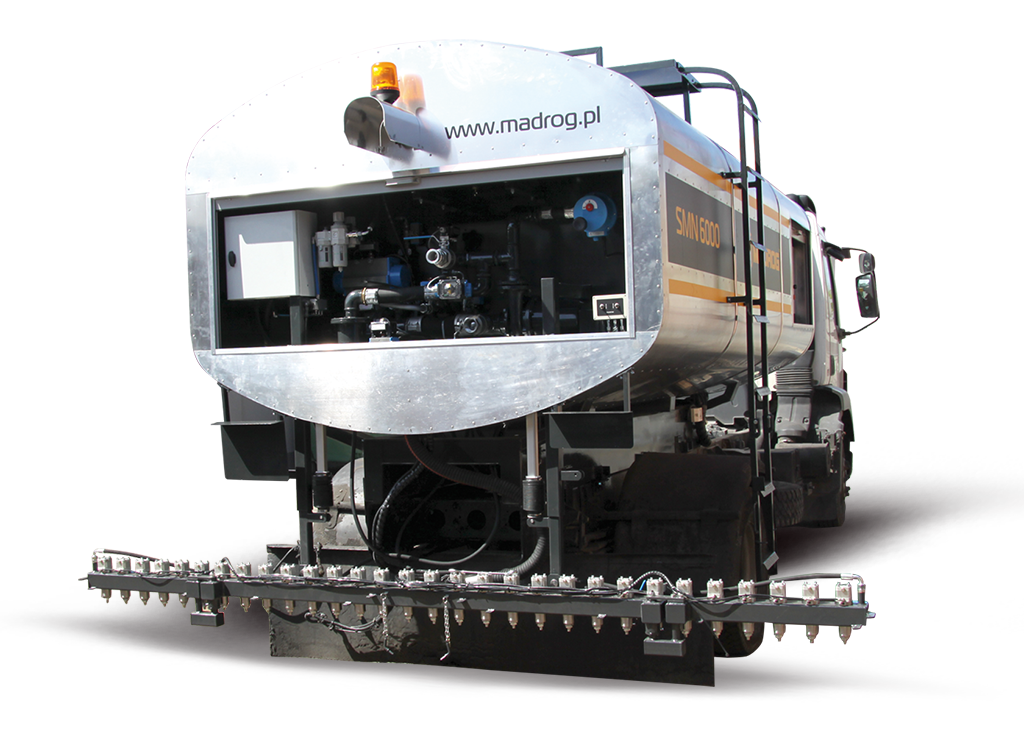 THE HIGHEST QUALITY
The operator/driver can control all working operations by means of touch screen control panel situated in the car cabin. He can easy activate and follow up any working sequence on the screen, which shows the activated sequence line and current valves status on the mnemonic diagram.
The only thing he has to do is activate the sequence (preparing to work sequence or spraying sequence or any another one), is touch screen.
In case of any works disturbance, a warning signal is coming, and operator can easy identify the cause of the alarm, on the screen.
Fully automated working process and ?control and follow on the screen? system, lets avoid unintentional operator?s mistake and provide greater spraying reliability.
The color TV inspection system (camera on back side of the sprinkler + monitor in the truck cabin) allows monitoring of the spreading result. The sprayer is fully autonomous machinery, containing its own diesel engine as well as air compressor and emulsion pump. The sprayer is equipped with the hand spraying gun and parameters printer in order to archive the parameters history, for inspection purposes.
The SMB is equipped with the unique heating system of the emulsion pump and emulsion collector by means of the "circulating oil", which uses heat of the emulsion in the tank. Thanks to that system you don?t need any additional heating system to warm emulsion pump and emulsion collector, before spraying. Before work, the system of the emulsion is filled with "circulating oil". Our SMB sprinkler is provided with a modern centrifugal pump, ideal to ensure precise sprinkling effect. Centrifugal type pumps do not delaminate and do not cause any other damages to the emulsion.

TECHNICAL DATA
PRODUCTIVITY (max)
27000 m?/h
EMULSION CISTERN CAPACITY
4000 l – 14000 l
CISTERN
thermos type, oval shape, aluminum sheating
HEATING SYSTEM
automatic
EMULSION TEMPERATURE
automatically controlled
HEATING EFFECT
depends on the cistern size – 30 ??/h (6000 l cistern)
TEMPERATURE DROP
1 ??/h
SPRAYING WIDTH
250 mm ? up to 5000 mm, controlled each 250 mm
SPRAYING ACCURACY
? 4%
EMULSION OUTPUT (computer controlled)
0,2 – 2,3 l/m? depending on both the nozzles size
and moving speed
FILES
Contact us ? we will process your request shortly and contact you.