Project Description
TRAILED EMULSION SPRAYER
SM2000
SM 2000 Sprayer is used for spraying road with asphalt emulsions.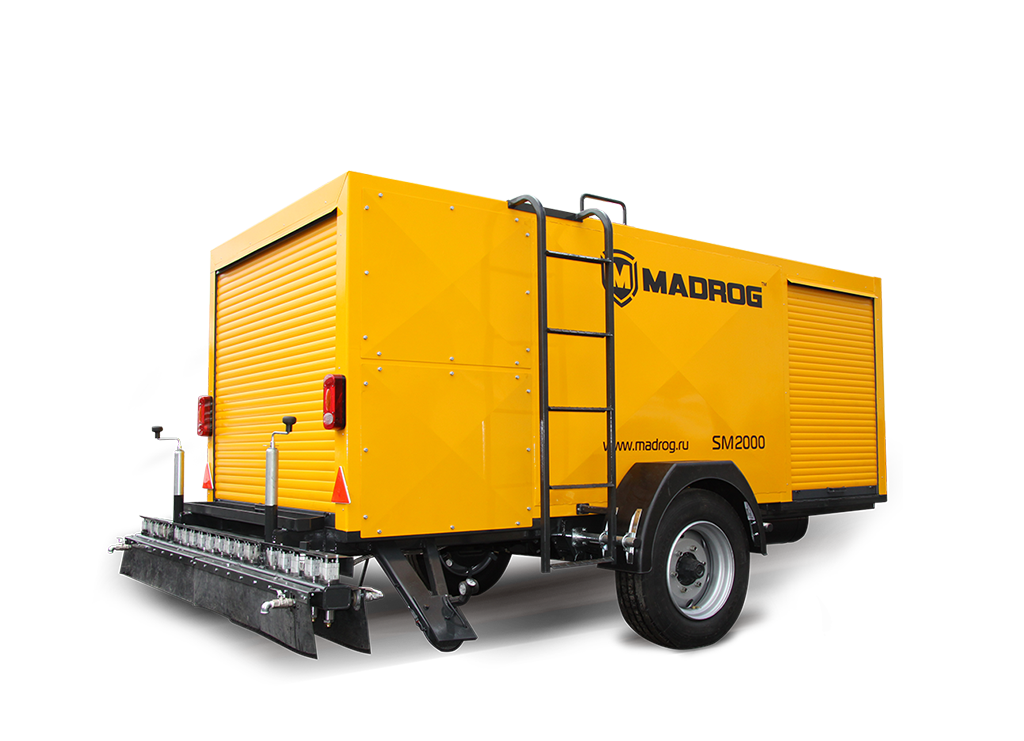 DESCRIPTION
The SMP 2000 Sprayer is a modern, computer controlled machine. It is a fully autonomous machine consisting of its own engine as well as control air compressor and emulsion pump and works towed by any proper vehicle. On request of the customer we can deliver the sprayer without chassis and it can be installed on any proper either truck or trailer. The sprayer provides excellent both precision and accuracy of the spraying and keeps the emulsion output exactly to parameters setting, even when machine speed and/or width of spraying changes. The sprayer is equipped with a parameters printer in order to archive the parameters history for inspection purposes.
The operator can control all working operations from the car cabin by means of touch screen control panel. He can easy activate and follow up any working sequence on the screen, which shows the activated sequence line and current valves status on the mnemonic diagram.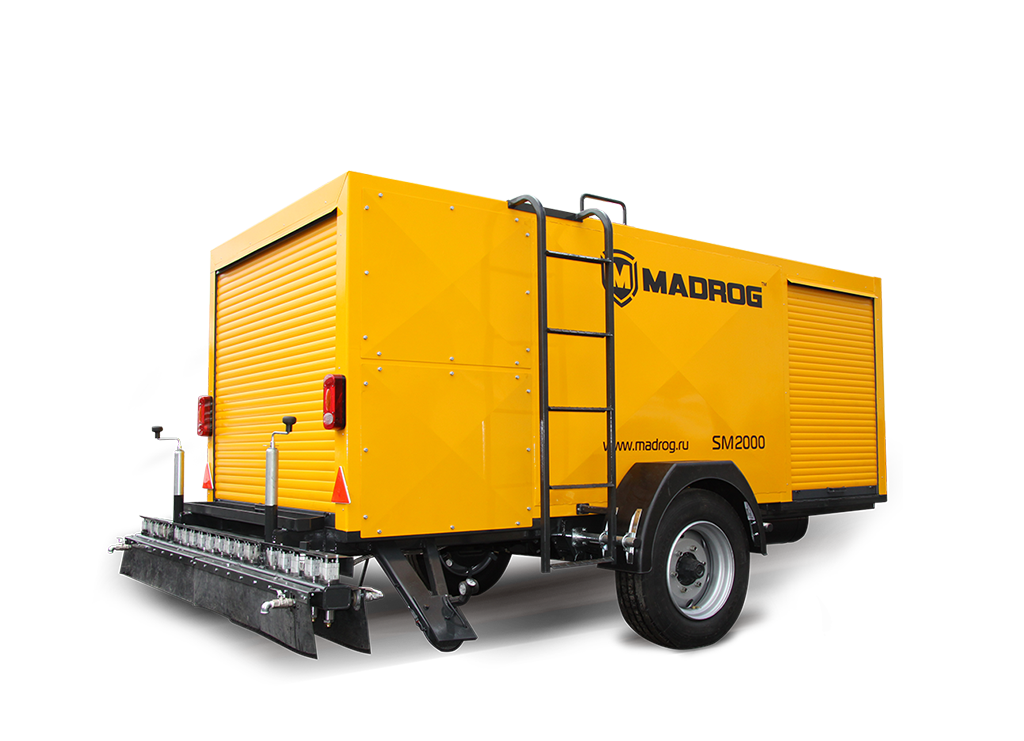 The only thing he has to do is activate the sequence (e.g. preparing to work sequence or spraying sequence or any another), is touch screen.
In case of any works disturbance, a warning signal is coming, and operator can easy identify the cause of alarm, on the screen.
Fully automated working process and "control and follow on the screen" system, lets avoid unintentional operator's mistake and provides greater spraying reliability. The emulsion tank is thermos type with its own heating system. Its piping system allows filling up and discharging the cistern by means of its own emulsion pump.
OPTIONS
• TV set for monitoring of the spraying,
The monitor is located in a cabin of the car and allows running spreading inspection,
• 125mm left /right side shift of the emulsion collector,
• hand spraying gun,
• extension of the emulsion collector.

TECHNICAL DATA
PRODUCTIVITY (max)
27000 m²/h
EMULSION TANK
2000 l, thermos type
LENGTH (with towbar)
6400 mm
WIDTH
2500 mm
WEIGHT NET
3000 kg and 4150 kg mounted on a trailer
WORKING SPEED
2,8 – 10,8 km/h
DIESEL ENGINE
Kubota D1105E
HEATING EMULSION SYSTEM
automatically controlled
HEATING EFFECT
40º С/h
TEMPERATURE DROP
1º С/h
BURNER
oil or propane/butane
SPRAYING WIDTH
2500 mm max, remotely controlled each 250 mm
EMULSION OUTPUT
0,2 – 1,4 l/min, computer controlled
SPRAYING ACCURACY
± 4%
CONTROL COMPUTER
FILES
Contact us – we will process your request shortly and contact you.